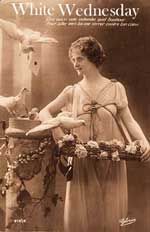 Even though there is no snow to be found down here in South Florida, we have been covered with a blanket of hot, sticky, humid fog for three days now. Where did our pleasant temperatures go? Word has it that it will burn off later to make way for 80 degree temperatures. Seriously?? So I guess I could have taken a picture of the scenery today to play along with
Faded Charm Cottage's White Wednesday
. Instead, though, I chose these pictures to share.
Lovely entry. The painted floor is gorgeous.


(from apartmenttherapy.com)
This is a beautiful white kitchen, but to me,
the rustic pantry and boards on the island
make it.


(from thedesignnotebook.blogspot.com)
I'm so in love with white slipcovered furniture.
I could grab a book and blanket and spend the
day in this chair by the window. Ahhhhh!


(from eclecticrevisited.wordpress.com)



The best bathroom I've seen in a while!
It's where you'll find me after I leave the chair
by the window. Sounds like a lazy day, doesn't it?
I could use one of those, truth be told.
The barn wood ceiling and tub surround are perfect!


(from milk&honeyhome)




I have been enjoying the music from
Jennifer Rizzo's
blog today. Truly. While browsing my blog roll this morning, her music popped up. I minimized the screen and am just listening to her playlist. It is wonderful. My favorite is Sarah McLachlan's
Blackbird
. Thank you, Jennifer, for serenading me this morning!!
Oh....now I'm seeing raindrops on my office window. I guess the fog is seeping! No worries. My plants and yard are most happy again today, so I will be too.
Enjoy a beautiful Wednesday, no matter what you see from your window.